Ghosts of National Sales Meetings Past…Marking Your Territory
Posted on
January 12, 2016
Marking Your Territory
For all the things miserable about National Sales Meetings, there are some good perks. I've made lifelong friendships, traveled, dined at some amazing restaurants (or so I'm told, remember I'm more of a lover of carnival food) and stayed at amazing resorts.  Over time, I'm not sure if it's taken for granted, as much as the stress and pressure associated with this type of sales overshadowed the perks at some point –for me at least.
I remember the first time I felt like a real adult with a real job, staying alone in a real hotel.  The Stryker National Sales Meeting christened the St. Regis, Monarch Beach in the Laguna Beach Area.  At that point in my life, it was by far, the most elegant hotel I'd ever stayed.  The grounds were vast and lush and the bar overlooked the ocean. No expense was spared when they built that resort.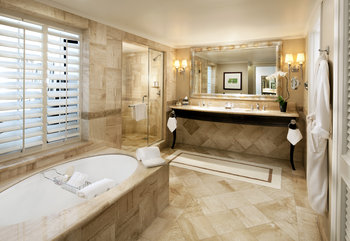 Textiles adorned that room I hadn't even heard of yet, travertine (polished, honed and filled), granite and marble accents and the only thing I ever care about in a room, the tub.  It was the most amazing tub I'd ever seen.  And, I was the first to use it!  I loved the experience at this hotel so much that I modeled much of my custom home after it (a few years later).
I finally felt like I made it; and, it was a fuck you to those in my life who said I couldn't do it.
My old finance who told me I was cute enough for pharmaceuticals but not smart enough and that I'd never get into device 'those reps stand next to people like me, surgeons,' he wasn't a surgeon yet, he was a 2 time rejected medical school wanna be at the time.
My then boyfriend who told me that I would not get the Stryker job, they were just interviewing me as a favor to him. I beat out 12 other men all with surgical experience.  He may have gotten me the interview, but make no mistake, I got myself that job.
The recruiter who told me I didn't have a shot because my uterus was holding me back since I was at prime childbearing years.
The 'manager' who told me that women weren't really 'cut out for this type of work.'*
I was making around $150,000 (2001), hit my quota, which was a big deal at Stryker.  The company line was that a rep grew their business 20% every year, or they didn't have a job the next.  Tough-yes. Transparent-yes, which was and is still rare in the industry. It is the only job where I didn't need a Sherpa, abacus, and Rain Dance to figure out my commission.  I made a straight 14% off of every item I sold.
This is also where I earned the nickname Mafia Princess.  If a hospital doesn't own product you supply them with a bill for items used known as a Purchase Order.  I would run around the last two  days of the month 'shaking everyone down for the PO's the owed me." I believe his name was Adam, in Customer Service who dubbed me with that name, and was the one stuck processing all those at once (still sorry about that).  He used to joke, "You do know there are like 30 days in a month, right?"
Unlike the usual big awards dinners, Stryker, at the time, did a breakfast for the quota achievers.  I was so determined to hit my quota that around October I put the total amount  of my quota left on my bathroom mirror, in lip liner.  Each time I sold something, I put a line through it and added the new lower total and watched that number go below zero (quota achieved).  Good thing too, there wasn't any room to look in the mirror when by December 31.   If you achieved quota you wore a suit and if you didn't, then you were in business casual attire. I bought a special Armani Black Label just for the occasion which I had and wore until recently (see previous writing-Yard Sale/ Soul Found).
*That 'manager' was demoted and not in a suit collecting a bonus check, but I was. I will forever be grateful to a compassionate Sales Director who listened to his people and made the necessary changes for the greater good of the company.  A sign of a great leader.
Even while typing this I get it seems like the suit thing a goofy distinction, but when you're there, in that moment, it is a big distinction.   This is also where you are handed your year-end bonus check, I believe mine was around $23,000 and it was one of the proudest moments in my 13-year career.  When I showed my dad, I think there was a tear (which of course was followed by please don't be an asshole with it-sorry dad).  And unlike other companies that have winners trips (who wants to 'go on vacation,' with work people?), Stryker gave American Express travel vouchers and if memory serves it was around $7,000, to take a vacation where ever I wanted with whomever I wanted.
One evening during the trip, we all were to meet in the lobby bar. Over one hundred men and I think there were only three or four women in sales at the time. I decided to run to the powder room (c'mon it's a fancy place), across from the bar, to freshen up and get away from a guy who declined and needed no less than six breath mints.  He kept bragging about how much money he was making.  As I was exiting the conversation, I  casually tossed, "You really should think about getting your W-2 ironed on the front of your cheap suit and your net worth on the back.  It would save you a lot of time in the future and might actually improve the look of the suit."
I  could still hear a few people snickering, as I entered the bathroom when I noticed a stunning lady in a red suit looking who looked over and smiled.  Ok, so maybe there were now five women?  She said, 'This is my territory.'  I gushed, 'I'm so jealous, I would never get any work done if I had Southern California and the view of the ocean.' She was looking at me strangely, so I offered, 'My territory is all of Arizona.'
She came closer to me, and distance was her friend, I like a face with a smooth trowel finish.* She said more forcefully this time, 'I don't think you understand, this my territory, I was told I could work the bar tonight.  There's a big medical convention in town with deep pockets.  And men away like to play.'  Ohhh I tend to be slow sometimes and quickly clarified, 'Oh you think I'm a prostitute?  Well, I am sort of–I'm in sales for the company you're trying to work at the bar.  Don't worry you'll do well with that crowd.'
Later that evening, she walked by me on the arm of the smug Mr. W-2 guy.  She winked at me and I laughed.  Fuck! Why hadn't I brokered a referral fee when we were in the bathroom?
Thanks for reading-Melayna Lokosky
I hate to have to mention this, but there are a couple of other 'pros' from Real Housewives, who have used the St. Regis for their 'business.' Tamra Barney had her 4,000th wedding there. Those guys standing there aren't groomsmen, they're just next on the rotation.  Hell, I mean she had the place for a couple of hours.
And Alexis Bellino posed around the St. Regis, looking like a dead (yet constipated) carp during a photo shoot for 'her' (not really her) clothing line.
*RF