Grab Your Yearbook! Photos Can Predict Happiness, Divorce & Death
From Forbes:
Psychologists say, they may be able to predict how happy your life will be, whether your marriage will last, even how long you'll live, from your expression in yearbook photos.
How it's done
Look at smiley face icon – the only thing differentiating it from a frowning face is the upwardly curving mouth line.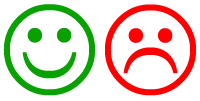 But in reality, experts say, there are actually two sets of muscles at work when you smile. The cheek muscles, known as the zygomatic major, lift up the outside corners of the mouth, while the orbicularis oculi, a ring of muscle surrounding the eye sockets, crinkle your eyes into a happy squint. (I must be happy because older sister had me convinced when I was about five that I was adopted because of my 'squinty eyes' when I smiled.  She told me my parents didn't tell me case they ever wanted to give me back. And I had no neck in any picture up until about age six-not sure what that says though).
As far back as the 1860s, a French scientist by the name of Guillaume Duchenne studied the mechanics of smiling using electrical currents to stimulate facial muscles and discovered that while we can make our mouths smile on cue, we can't do the same with our eyes. The eyes, therefore, can be used to "unmask a false friend," as he famously wrote. Hence the term "Duchenne smile," still used by researchers today.
Today, the "Duchenne smile" has given rise to an even more detailed rating known as FACS (Facial Action Coding System) which catalogues 3,000 different facial expressions by the exact combination of muscles needed to produce them.
Using FACS the college yearbook photos of female students, then matched the women's smile ratings against 30 years of personality data. By age 52, they found, the women whose photos at 21 had radiated happiness had better health, happier marriages, and expressed greater satisfaction in general with how their lives had turned out.
So grab your yearbook and share your findings!
Well not my yearbook exactly, I'm on the floor with the squint sans a neck.
And to my sisters (payback for riding the hump on every vacation and for you both  getting the easy names).