Foursquare CEO's Wife taking DIY to a Fraudulent Level @ Boston Marathon
UPDATED: April 20, 2015 Below Stowaway Cosmetics
Chelsa Skee Crowley, wife of Foursquare CEO Dennis Crowley wore a fake bib in order to gain entry to the Boston Marathon on Monday.
Chelsa is a contributing writer for MSNBC's The Look on TODAY, Brit.co, Pattern Pulp, Shopbop and of course her own blog.  She is the resident beauty and fashion expert for NY Daily News and more recently, Chelsa brought her talents to fashion start-up Quincy (now closed) to work as their Editorial Director & Stylist and now is working for Bobbi Brown Cosmetics working as their content editor. ChelsaSkees.com
It's interesting Chelsa is a contributing writer for Brit.co,  owned by Brit Morin, a DIY (Do It Yourself) craft startup which has more than a few confused on how they raised $6.3 million; and, the site is often accused of taking other people's ideas for their site without giving proper credit. (hummm is there a theme developing here?)
Getting into the Boston Marathon is harder and more expensive than most races. To earn a bib for the race, runners must qualify or raise money for charity. The Boston Athletic Association, which organizes the Boston Marathon, prohibits runners from exchanging or transferring their bibs.  I guess they need to add DIY bibs to the list for the entitled who feel they don't need to earn it. 
The Boston Marathon historically has welcomed unofficial runners, or "bandits," on its course from Hopkinton to Boylston Street in Boston. But bandits have always been easily identifiable for their lack of bibs. This year, the BAA announced it would increase efforts to remove bandits from the race for security purposes.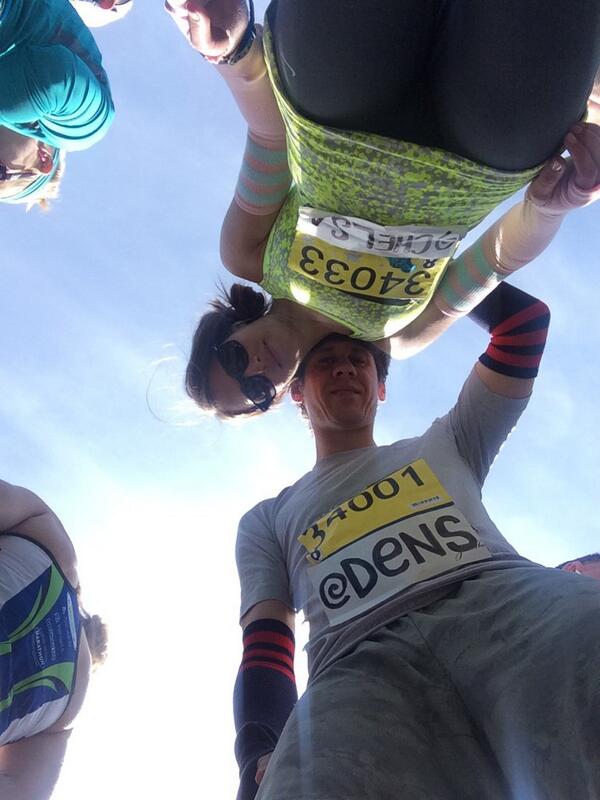 Entitled Assholes posing for Pictures
Chelsa Crowley had tweeted on April 4, 2014, that she was looking for a bib.
On Marathon Monday, someone tweeted to her "Fake bib? 34033" The next day she replied "Shhh."
So let's run Chelsa Crowley's action of creating a Boston Marathon bib fraudulently through the Sociopathic Business Model™:
-Glib (posting pictures)
-She did not recognize the rights of the person (Kathy Brown) who actually wore the number and obtained it legally, she did not think the laws applied to her
-Lack of shame, remorse or guilt (she got called out and her initial response was 'Shhh)
-Her actions showed lack of accountability (although they did apologize after they got caught)
-Her actions were irresponsible
-She was taking credit for other people's work (Kathy Brown)
-Her behavior was unethical
Updated: April 20, 2015
I guess stowingaway at the Boston Marathon sparked a business venture:  
Chelsa Skees Crowley's new business venture is Stowaway Cosmetics-Makeup is easy and the information above is enough for me to know I would not personally do business with or support Chelsa Skees Crowley due to previous, publically documented unethical behavior.
In the comments section:  Marathon forged bib couple apologizes, explains decision
The rest of the comments in response to he and his wife's actions, um not kind.  Your thoughts?
The best quote on the matter  from the writer and marathoner Murakami:
"If you can't understand it without an explanation, you can't understand it with an explanation"
This can't be good for the Bobbi Brown brand.
UPDATED:  If you don't succeed…try and try to hire someone who can tell how not to still sound like an entitled asshole.
Could be? (still showing lack of accountability)
Our biggest regret?  Sounds like getting caught was the biggest regret.
So he's the only one who grew up right outside of Boston? Oh well then that changes…nothing.
And thanks Chelsa for your dismissive tweet letting us know your final thoughts on the day (Hey everybody, Chelsa would like us to forget what she did and brush it under the rug, is that ok with you?)
Yep me either.
From the comments section:
In that NYtimes article she said she was an editorial and strategy director at Bobbi Brown Cosmetics in New York. I am pretty sure she never had that title.
http://www.nytimes.com/2013/10/20/fashion/weddings/girl-version-of-him-boy-version-of-her.html
And someone commented on another site (I have not been able to confirm) but:
"In that NYtimes article, she told that she is an editorial and strategy director at Bobbi Brown but she was just a freelancer there and NYtimes didnt do any background check. She got let go after that article."
And if that is the case, then Chelsa Skees Crowley has been the Queen of Fraudulent DIY for quite a while now.  And to show just how out of touch she is:
Well she certainly is shaping up to be one unevenly tan lined Case Study, isn't she?
And from Bobbi Brown's Facebook Page….poorly timed and worded message or passive-aggressive message?
AND
Bobbi Brown's Response